HOW IT WORKS
Step-By-Step Auto Damage Assessment
Step #1
Using a smartphone, the agent records vehicle VIN, condition and gas level and review the vhicle condition with the customer at checkout.
Step #2
Upon return, agents snap new photos and flag for damage.
Step #3
Supervisors review flagged cases and communicate with customers using before/after photos as proof.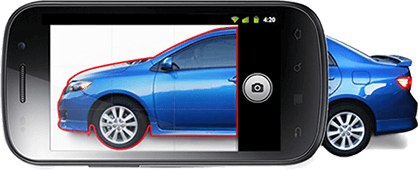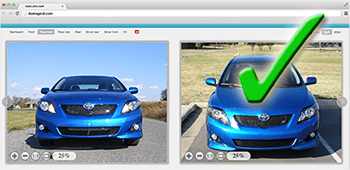 Instructional Materials
Videos
Documentation Links
Developer API
Avoid Unnecessary Disputes with Damage Assessment Software
Are you letting customers drive away without Collision Damage Waiver (CDW)? If you are, you're losing thousands of dollars in lost revenue.
With credit card companies increasing CDW offers to customers, many local car rental firms are finding it more difficult to upsell CDW. This is not only affecting their bottom line, it risks putting some of them out of business.
DAMAGEiD can help: Our auto damage assessment app is proven to increase CDW sales across the board by systemising the upsell process.
If you've ever rented a vehicle, apartment building or other property to a user, it's likely you've been faced with an issue regarding a damage claim. Once you've become an established renter for some time, this will become unavoidable; and unfortunately, the responsible parties simply aren't held accountable for damage made to your assets. On the other hand, it is also not unheard of for damage claims to be made to the user when they did not cause any damage. These issues do not only lead to financial loss, but they can destroy customer relationships.
To avoid unnecessary disputes, you need a dependable property condition report – which is where the mobile auto damage assessment app from DamageiD comes in. With our software, you'll have the tools you need to accurately document the property both at the time of the exchange and when it is returned. "Before" and "after" photos are taken and stored to help you prove and collect for minor damage. You can also use this feature to monitor fuel levels if renting a vehicle.
With this instantaneous and indisputable evidence that is documented via our damage assessment software, you can have peace of mind as an owner while providing the same courtesy to your renters.
How does the auto assessment app work?
When your agent hands over the car to the customer he shows them the DAMAGEiD app. The pair of them inspect the vehicle together, taking pictures in the app as they walk around the vehicle. Once finished the agent explains to the customer that they will go through the same auto damage assessment process when the car is returned.
This has two effects: it lets the customer know that your vehicle assessment process is thorough and that he will not be able to get away with those little dings and scratches like before. It also makes him worry that his credit card insurance may not be enough to cover for any damage.
Our research shows that the end of the initial walk around is the perfect time to upsell CDW, and we've put a reminder in the app to prompt the agent to offer it, just so he doesn't forget. When actioned properly the DAMAGEiD auto assessment is proven to increase CDW sales by up to 50% during the initial walk around.
Imagine how much that would mean to your business? $1000 a week maybe …
DAMAGE iD
25 Harvard St., Pembroke, MA 02359

(978) 886-0798