This week, we've made some small, but IMPORTANT updates.
First, we realized that with all our new customers, the "Checkout" process has gotten a bit slow. (If you ever see something that should be faster, be sure to let the A-Team know. We love to optimize DAMAGE iD!).
(The "Checkout" is the part where you enter your unit number, license plate or scan the VIN number.)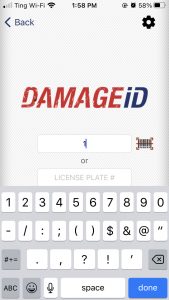 We've optimized that. Now Checkouts have gone from 6-8 seconds down to 1 second!
You should be able to notice this when using the app. It should feel much snappier.
(This change affects both Android and IOS/Apple apps).
---
The second change we made this week, affects Android. (Look for version 4.0r60 in the play store).
This change reduces the number of login screens you will get. When you start up the app it will automatically log you in, until you log out.
This should make the app just a little more pleasant to use.
In future releases, we will be announcing some major software integrations. We want to be compatible with as many software products as possible. Once we have these integrations complete, we will let you know more.
Have a wonderful weekend!